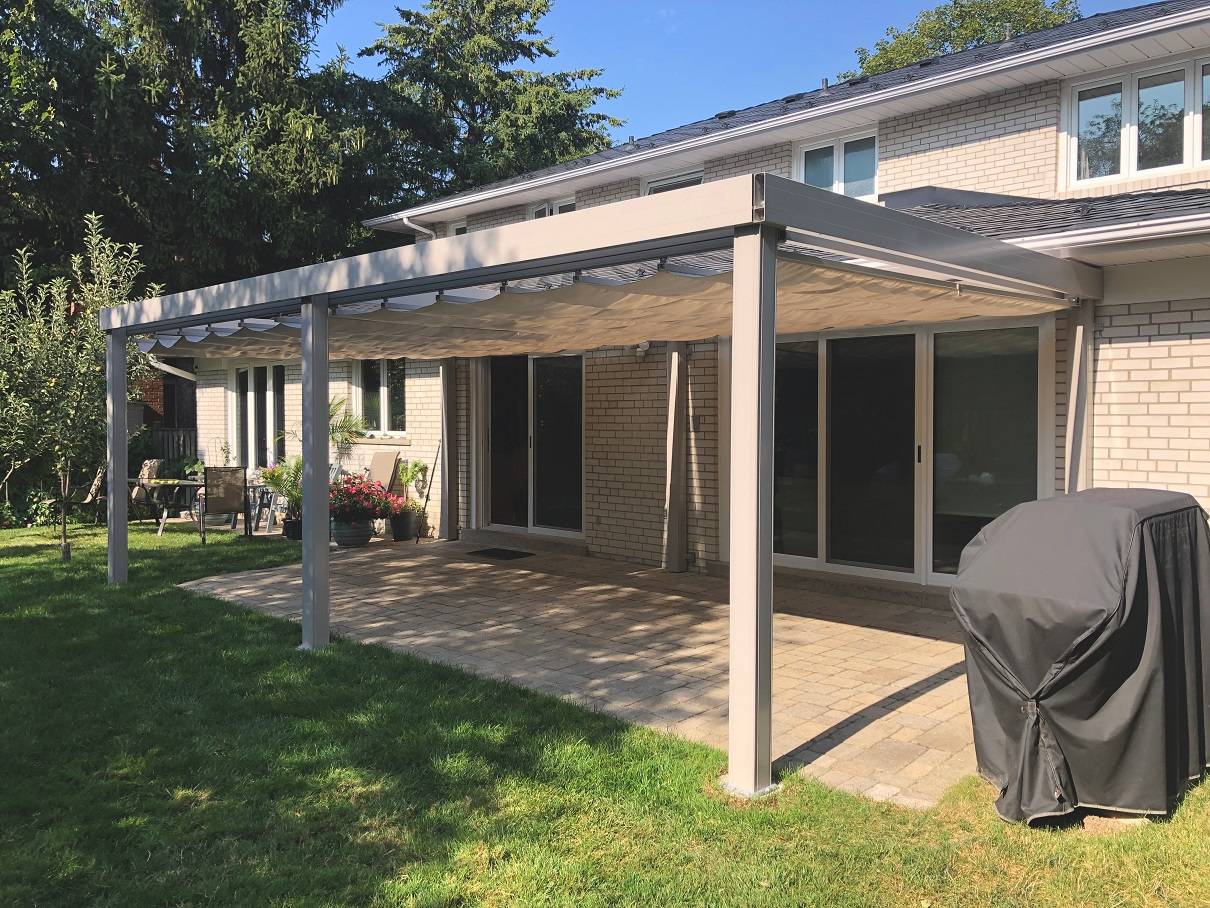 Motorized Louvered Systems
High-Grade Structural Aluminum Alloys
• Comprised of high-grade structural aluminum alloys, and stainless steel fasteners, the ETP Alum-Guard railing system will withstand our harsh Canadian climate with ease. This ensures no rust or deterioration of all structural components which are responsible for giving our railing a solid feel and peace of mind.
• All fasteners are hidden or concealed with high grade matching color matched aluminum covers.
• Our post bases are an industry best with a highly corrosion resistant hot dip galvanize coating.
• Through our highly modular system, you can easily customize the configuration of our railing to fine tune the railing to suit your desired appearance.
Take Control of the Elements
Take in as much or little sunshine as you like with a simple touch of a button and watch our Louvers smoothly and seamlessly provide the exposure you desire.

Rain will never keep you indoors again. Close your new ETP Louvered roof and continue to enjoy your outdoor living area.
With various lighting options available, continue to enjoy the outdoors under the lights. Choose from inset pot lights fixtures or integrated low profile LED lighting bars, we will offer a balanced and aesthetically pleasing lighting solution to satisfy your tastes.
With the touch of a button, our retractable shade screens will quickly cool your outdoor living space. All screens are custom ordered for a precise and accurate fit.
Why Choose ETP Louvered Roofs for your Business

In todays new climate and social distancing requirements, ETP Louvered roofs are an essential and priceless upgrade for any business looking to increase their outdoor seating capacity, and to continue serving patrons in less-than-ideal weather conditions. Our Louvered roofs can satisfy most architectural requirements to mesh with any building design.

Customize your Pergolas Surroundings
Customize your ETP Louvered Pergola with fixed privacy screen panels to achieve a higher level of privacy. Alternatively, we can offer you a variety of modern laser cut panel designs that are sure to make a lasting impression.


Subscribe to our newsletter
Sign up with your email address to receive news and updates
237 Toryork Dr,
North York, ON M9L 1Y2
(416) 741-9859
sales@etpmetals.com
Hours of Operation:
Monday: 7:30a.m. – 5p.m.
Tuesday: 7:30a.m. – 5p.m.
Wednesday: 7:30a.m. – 5p.m.
Thursday: 7:30a.m. – 5p.m.
Friday: 7:30a.m. – 5p.m.
Saturday: 7:30a.m. – 12p.m.
Sunday: By Appointment